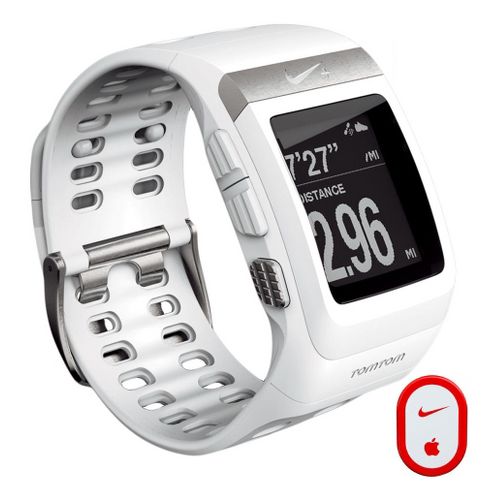 I recently got a new Nike+ GPS Sports Watch to try. This is the newest updated version to their watch that came out last year. It is suppose to have improved functionality and easier-to-use interface. I have worn the watch three times now for an actual run and have gotten a pretty good idea about the features and how they work. My history as it comes to watches is thus: I have a Garmin 410 that I use for most of my long runs. I got it to replace the Nike+ footpod when I stopped using an iPod that was compatible. I still occasionally use the Nike+ GPS iPhone app when I am doing shorter runs and want to listen to Pandora.
That being said, here is my response to the watch:
The Good:
-Gets points for style the features that you can set to congratulate you after a run and to remind you to run every couple of days are cool.
-The watch looks modern which is a nice alternative for people who want an everyday watch as well as a GPS watch.
-Compatibility with NikePlus.com. The Nike Plus website is really advanced, user friendly, and is in some cases better than the Garmin Connect Dashboard. It makes reviewing your run fun and easy to share on an social media networks.
-The battery life is pretty good. I still have half battery since the initial charge even after three  runs and daily wear. Yes I have been wearing it around the town a bit.
The Bad:
-The GPS data is usually off. I ran it side-by-side with the Nike+ app on my iPhone and it was off by about .27 miles. When I ran it side-by-side with my Garmin it was off by .11 miles. I double checked with a couple mapping sites (mapmyrun) and the correct mileage was recorded by the other devices, not the Nike Watch. I had a couple issues connecting to satellites for some of the runs.
-In order to change anything: Time, intervals, screen views (time/pace/distance readouts), or pretty much anything else you have to connect it to your computer. For example you can't decide you want to do intervals when you get to your run site, you have to set it before to say 5:1.
-The band keeps coming unclipped because of the USB connector inside of it. The USB connector itself looks very flimsy and I am afraid it is going to break. Plus I am worried about the amount of sweat affecting the chip.
And The Ugly:
-The GPS signal does not always pick up or is kept by the watch. It spontaneously dropped the signal for no reason and if you are not wearing your foot pod it will not record the remaining mileage. My friend Dana had the watch on for a race we both did and it randomly stopped recording mileage during the race. So she ran a half marathon and it only counted 7 miles. Since the race was in a wide open area next to a lake and there was no interference that is not a good sign for a GPS watch.
Bottom Line: I really wanted to like this watch. I love the Nike+ website and system. But I just can't give it a thumbs up. I think that this watch will still sell purely based on the fact that it is different looking and from Nike (I have a feeling most people will buy almost anything from Nike because of brand loyalty and good advertising) However I would not recommend it to anyone because it still performs at an inferior level compared to the other GPS watches I have used. Garmin, Timex, and even Soleus all have the edge over this watch in terms of features and user-friendliness. Sorry Nike, but you can't sacrifice good features and hope the style and brand will carry your watch to the top.
I am still going to keep trying it but probably not without my garmin as a backup. I am interested in using the footpod with the watch on my treadmill to see how it responds in terms of mileage vs what the treadmill reads. I will update if I find anything super exciting out about this watch that I might have missed.
Related articles